ABOUT THE PASTOR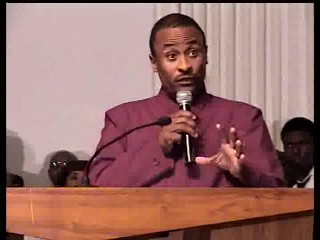 left click or right click image -> save as to view clip of Pastor Lyles
(Ohio District Council)

Elder Richard Lyles was born on June 9, 1956 and was the firstborn child of Richard and Betty Lyles. At a very young age he began working to help support his family. He was a faithful and devoted son, working and helping take care of family business for his mother. Even while attending school, he remained dedicated to his family and his jobs. He was respected by his family for his compassion, commitment, humbleness and integrity.
He was baptized in Jesus' name and filled with the Holy Ghost in July 1971. He graduated from Central High School in 1974. Three years later, in October 1977, he married his childhood sweetheart, Emily Yvonne Mitchell, the daughter of the late Pastor Robert and Lady Betty Mitchell. They have two saved daughters, Rachel and Leah.
Soon afterward, Elder Lyles received the call of God to become a minister. He studied at the Bible-Way Institute, Karl F. Smith Bible Institute, and Aenon Bible College and became a licensed minister of the Penecostal Assembles of the World, Inc. and of the State of Ohio in 1992.
Elder Lyles was officially installed as Pastor on June 3, 2001 after serving as Assistant Pastor under the leadership of the late Pastor Robert L. Mitchell. In addition to his office of Pastor, he served as Secretary of the Ohio District Council Brotherhood Auxiliary.
Pastor Lyles has a vision of enlarging our territory, expanding our outreach ministry while spreading the good news of the gospel. Our aim is to reach those who are in need, both naturally and spiritually. One of his goals is to establish a daycare in this community. With the direction of the Lord, we are making steps to attain this goal.
Pastor Lyles admonishes the house of Bethel to walk in the gifts and callings of God, and constantly reminds us that God "is able to do exceedingly abundantly, above all that we can ask or think, according to the power that worketh in us." Ephesians 3:20